Special Products

UNIFIED MESSAGING – SALES, DEMONSTRATIONS, CONSULTANCY AND TRAINING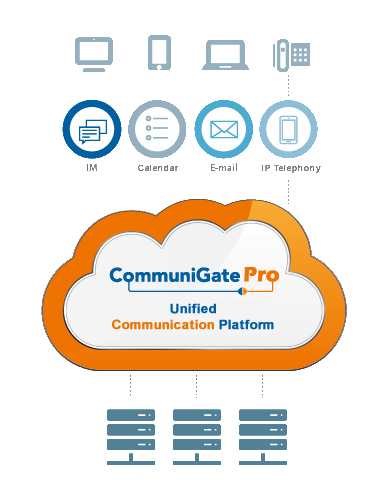 CommuniGate Pro is a client - server platform. The CommuniGate Pro Server application is installed on a server computer (or on a multi-server cluster) running any version of Unix, Linux, Microsoft Windows, Mac OS X, or other supported operating system.
The CommuniGate Pro Server application processes requests sent over the network by a variety of clients-communication applications installed on desktops, laptops, mobile devices and other end-user systems. These client applications provide users with email, groupware, IM/Presence, telephony, and other services by connecting to the CommuniGate Pro Server via its extensive set of supported standard protocols: SMTP, SIP, IMAP, XMPP, LDAP, XIMSS, CalDAV, WebDAV, and Many other. The CommuniGate Pro Server implements server-server communications, too, communicating with other systems (other servers) to relay emails and phone calls, to Exchange IM and Presence information, etc.
NETWORK & SYSTEM MANAGEMENT – SALES, DEMONSTRATIONS, CONSULTANCY AND TRAINING
Built by network and systems engineers who know what it takes to manage today's dynamic IT environments, SolarWinds has a deep connection to the IT community. The result? IT management products that are effective, accessible, and easy-to-use.

OTHER PRODUCTS